Welcome!
Welcome to TNT's website. If you would like to search through the thousands of promotional and premium products we offer, click on the Search Icon and follow the instructions. We are happy to provide targeted ideas for you if you will give us the parameters of your promotion. Let us know how we can be of help.

Remember that "you get what you pay for" is true. We are not the cheapest provider but use tested suppliers that back their products and provide quality imprinting and on-time delivery. Saving a few pennies on a product where the imprint rubs off, or worse still, the item doesn't work is a terrible idea as the recipients will remember it. Saving money is good provided the product quality is high, the imprint is clean and the product shows up where and when it is needed. We take care of the details and keep you informed via email. Loyal customers are our goal, not a just a sale.

Only factories with an "A" or a "B" rating are shown. They have the highest rating for product and imprint quality, on time delivery, large inventories and the fewest complaints. Occasionally problems do arise. We will respond quickly and resolve it to your satisfaction. Period. Guaranteed.

Check out our Links section. Shown is our primary wearables supplier who delivers the next business day to our embroiderer or screen printer with no freight charge. We specialize in rush orders so please call if time is tight. Most products in the "Leed's" link can ship the next day with good art. If we accept an order it will be delivered when promised.
Featured Item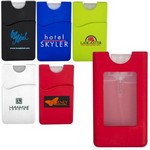 Silicone Wallet Sleeve with Sanitizer
PP Plastic credit card sized 0.67 (20 Ml) antibacterial hand sanitizer spray in removable silicone sleeve with pocket for credit cards, transit cards and business cards. Features light citrus scent. S...
$2.49 - $3.19
Signature Showrooms